One of the great pleasures in my business, besides the relationship with my customers of course, is working with great companies and having the privilege to promote and sell their products. HPTec is one of those companies. In business for over 40 years, HPTec is a true market leader. Specializing in high technology tools from micro drills to diamond coated routers makes HPTec one of the lines that we at TFE are most proud to represent.

Sincerely,
Jeff Brandman
 


Leader in Micro Drills

 
Purchasing new, higher quality, higher density, carbide drills available from HPTec for micro and multilayer drilling will cut your drilling costs in half. HPTec drills will increase your drilling accuracy due to higher frictional accuracy and stability, equating to less wandering of the drill bit.  The new drills feature a very long life, with double the number of hits before requiring repointing. Typically, drills need re-pointing at 1200 hits at only 1.5 mm (0.059") stack height.
The new HPTec 243 can drill thicker stacked PCB's, at a maximum of 3mm (0.120").  They experience very low wear, with improved corner cutting and less rounding off after 2500 holes.  Although initially more expensive, in the long run they will drill more holes for less cost. Extensive testing has shown the following data between HPTec drill and a typical drill from Asia, both drills have four re-points. Disclaimer: Tests were done on a typical drill machine with the same FR4 material and the same stack up.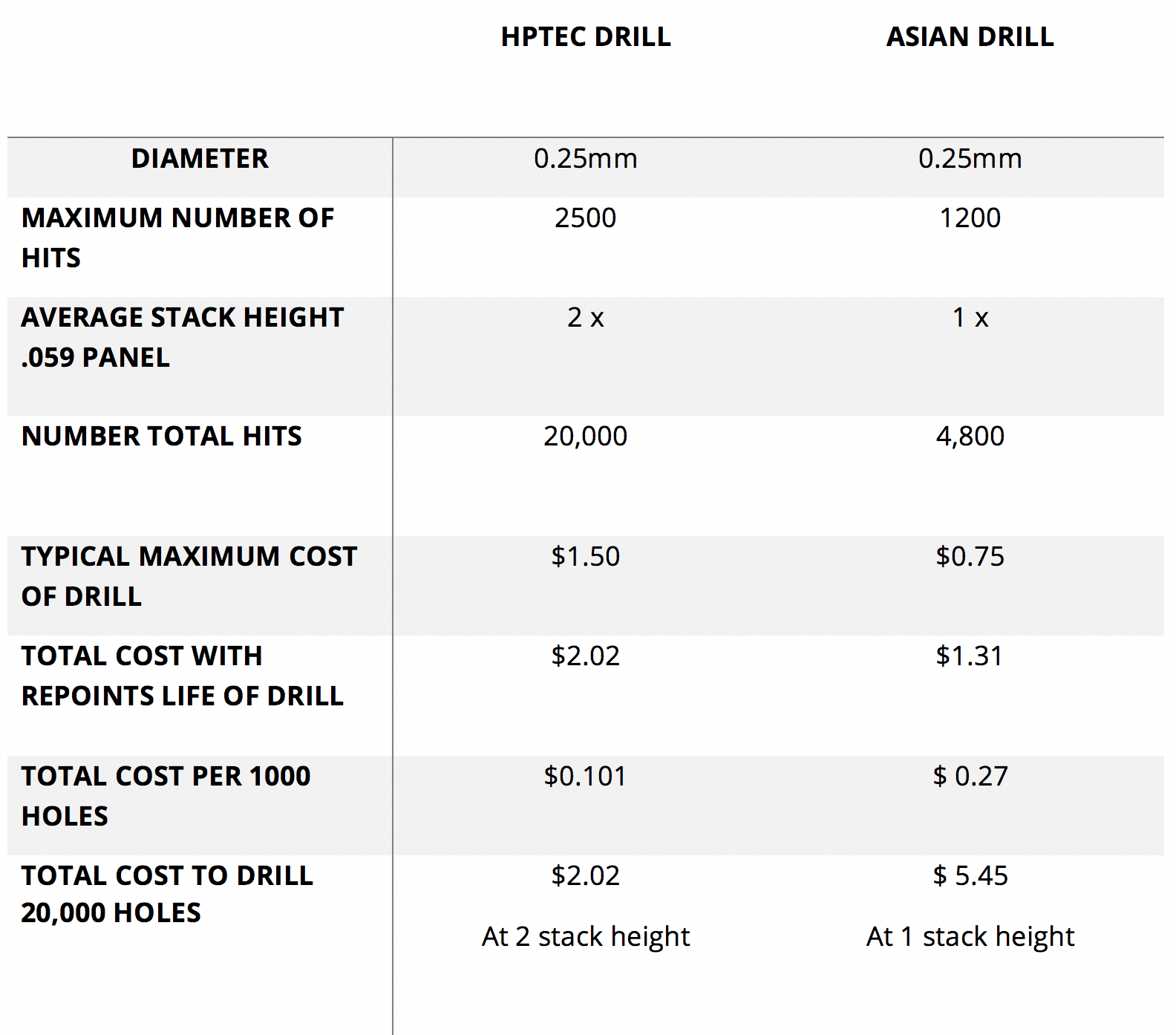 A savings of $0.169 per 1000 holes or $3.43 over the life of the drill bit! (Note: Pricing for demonstration purposes only.) Additional tests were performed, showing improvements with increased drill accuracy and less wander. A higher stack up can be drilled, while maintaining the specified tight annular ring tolerance. This extra accuracy, allowed for further increasing the cost savings by drilling two high with a 1.5 mm (.059") panel rather than the typical one high.