Our long-time relationship with The Benmayor Group is one of the cornerstones of our company. There is no doubt that our partnership with this company has elevated TFE's reputation for providing tomorrow's technology solutions today and marked us as one of the true high-tech distributors in North America. Of their many significant products, their robotics are one of the most popular as well as fascinating. In this edition we highlight their robotic arm for LDI (Laser Direct Imaging equipment). Enjoy!

Advanced Technosystem robotic arms for LDI imaging applications.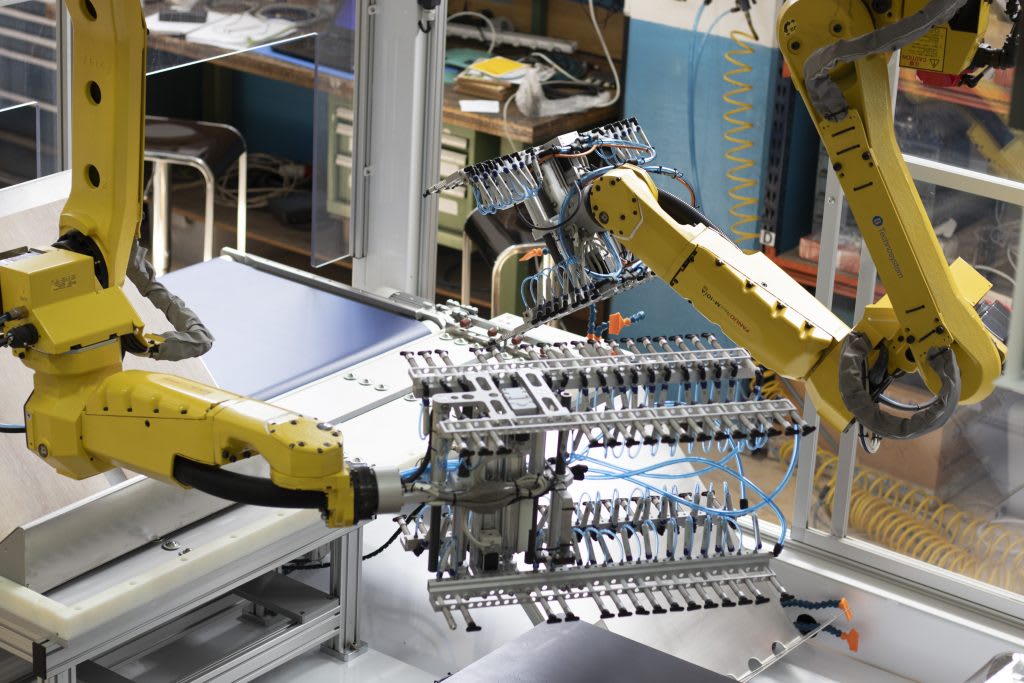 Advanced Technosystem robotics distributed in North America by Aismalibar North America / TFE
The new robotic arms for unloading and placing the panel on the LDI, (Laser Direct Imaging) greatly improve speed and quality.  Typical daily production increases can be as high as 200 percent.  The proven Technosystem robotic arms are available as a single arm system, with a 19 second flip-over time or dual arms with 11 second flip-over time. No operator is required.  

The advanced robotic operation reduces employee count at one of the most boring jobs in the PCB manufacturing area. With no break time, sick leave or holidays, the robotic arm does not ask for a raise or want overtime to work after hours.  The proven robotic arm can run all day and night for years using very little energy.   

With automotive industry quality, robotic arms feature extremely low down time by utilizing reliable, robust advanced robotics. The robots are fitted with high resolution cameras as well as AI type advanced software to find and scan bar codes as it communicates with the LDI.  The robotic arm will locate the panel in the cart, quickly place the panel correctly on the table, utilizing a tacky roller system to ensure the panel is clean, and then initiate exposure. After the first side is exposed, it will quickly rotate and replace the panel for second side exposure after cleaning.  At the conclusion of the LDI exposure, the robotic arm will remove the panel and place it back on the cart.  The robotic arms communicate with the LDI directly, initiating the imaging process ready to pick up, rotate and replace the panel for second side exposure.        

Investment is approximately $150,000 for a single arm and $260,000 for a dual arm system. With use 24 hours a day, seven days a week, production with a dual arm system, ROI is less than two years.  

For more about this product and the company, visit the Technosystem website.